Warning
: Trying to access array offset on value of type bool in
/is/htdocs/wp13360131_TJBFRE20NL/www/wp-content/plugins/ot_composer/functions/shortcodes.php
on line
360
A Sea Change In The Fishing Industry
Here at Trident, catching fish isn't just our business. It's our livelihood. It's our calling. We are all fishermen here,
and catching the purest and healthiest seafood is what we do — it's what we've done for more than 50 years. And if we stay true to our beliefs in protecting the oceans where we fish, it's what we'll be doing 50 years from now, too.
The story of Trident Seafoods starts back in 1961, when a 19-year-old kid with nothing but a dream drove an old Ford from Tennessee to Seattle, in search of a great adventure at sea.
That 19-year-old kid was Chuck Bundrant. And that little "adventure" stretched into a 12-year journey across Alaska, aboard any ship he could find, discovering everything there is to know about fishing and crabbing along the way.
Chuck met two other likeminded crab fishermen in the early 1970s, Kaare Ness and Mike Jacobson. All three pooled their money together and built the Billikin—a 135-foot boat that not only changed the course of their partnership, but also changed the course of the entire seafood industry. The ingenious Billikin was the first vessel of its kind to feature crab cookers and freezing equipment onboard, so their fresh catch could be processed as soon as it was pulled out of the water instead of coming all the way back to shore.
In the winter of 1961, Chuck Bundrant drove his old '53 Ford from Tennessee to Seattle.
But not before snapping a quick shot with his father.
Soon after, the pioneering partnership expanded once more when the three fishermen joined with Edd Perry and his Bellingham-based company San Juan Seafoods. Now they had all the resources they needed to match their ambitions.
That partnership over 50 years ago marked the beginning of Trident Seafoods. And that 19-year-old kid from Tennessee would become its founder and CEO. Chuck Bundrant could never have imagined how far that little "adventure" back in '61 was going to take him.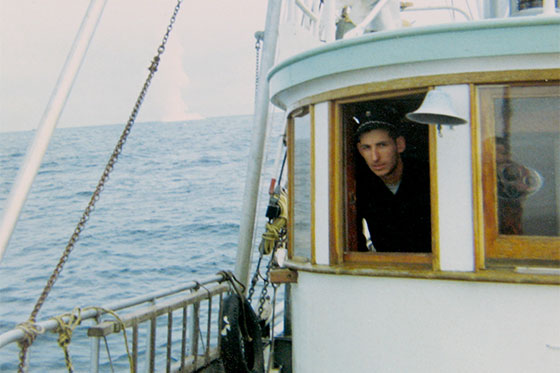 Chuck in the wheelhouse of his very first fishing vessel, The Addington.
Today, that dream is still alive and stronger than ever. Trident Seafoods has become the largest vertically-integrated seafood company in North America since its founding, yet we still hold true to the same beliefs we held four decades ago. Now more than ever, we believe that fish is our future, because it's the healthiest protein we can put in our bodies.
And we believe that this gift from the oceans is one we can never take for granted. We treat the sea with the respect it deserves, working toward sustaining a thriving and abundant ocean for generations to come.
Because we are fishermen at our core, and we have a bond with the ocean—when it prospers, we prosper too.
Chuck has every reason to smile. That little company he started over 40 years ago is
now the largest vertically-integrated seafood company in North America.
Many other seafood companies buy the fish they sell to you. We don't. We catch our own.
We know our seafood is the purest, freshest, and best-tasting seafood you will ever buy, because we catch it ourselves. We have our own fleet of state-of-the-art fishing vessels, where our fish are caught, prepared and frozen right onboard. And we partner with only the most experienced fishermen—fishermen who love what they do for a living, who have been with us for decades, and who respect the oceans as much as we do.
Measuring 124 feet long with a crew of five, the steel fishing vessel Gladiator has been catching wild Pollock in the Alaskan waters for 36 years.
We partner with thousands of independent and dedicated Alaskan fishermen—like the Morovic family. They're a small, family-run business who have been catching wild salmon for us on their salmon-seining ship Miss Danica for years. All the fishermen in our extended family love what they do for a living, or they wouldn't be working with Trident if they didn't.
The Morovic family is one of the many independent, family-run businesses that catch wild Alaskan salmon for Trident.
MEET OUR CAPTAINS
In addition to partnering with independent fishermen, Trident also
has its own fleet of fishing vessels that are skippered by only the
most experienced captains.
And not only is Trident a family of fishermen, but we are also a family-owned business. We don't answer to investment bankers like some other seafood companies. We only answer to our customers, our fishermen, and our employees. Chuck Bundrant founded Trident Seafoods on family principles some 50 years ago, and now his son Joe captains the ship as CEO.
Chuck and his son Joe onboard the Bountiful in 1979, and today. We're proud to be
family-owned and operated, with Joe now serving as Trident's CEO.
We've made our life from the sea for over 50 years now, and no one knows how to do it better than Trident. We've spent so much time catching fish that saltwater runs in our blood, our sweat, and our tears. And we've learned quite a few things along the way…
We know we sell the best seafood available today because we control every part of the process, every step of the way—from the second it leaves the icy Alaskan waters to the moment you prepare it.
This fierce bald eagle keeps a close eye on the crew at our plant in Akutan, Alaska. He knows good seafood when he sees it.
How can we be so sure? We already told you about our state-of-the-art fishing vessels, where each and every fish is caught, prepared, and frozen right onboard, within minutes of capture. But we've also developed innovative processing plants along Alaska's shores in the heart of the fishing grounds, strategically located to ensure the freshest fish possible.
In facilities across the lower 48 states, we take Alaska's bounty and provide you with convenient, easy-to-love seafood entrees and value-added products.
The Viking Explorer is one of 15 Trident trawl catcher-vessels operating in the Bering Sea and Aleutian Islands region of Alaska.
Our Catch
But our commitment to delivering Alaskan seafood doesn't just end at our own borders. We also serve markets in China, Japan, Germany and throughout Europe. For international inquiries contact our Sales team.
Seafood lovers around the world prize Trident's superior taste, quality and health benefits.
Global Reach
The Trident logo is your assurance of quality that every product we sell is held to the highest possible standards. And that's a pretty tall order. Because while we specialize in wild Alaskan seafood, we also offer a lot of other species from around the world.
While our focus is bringing you the best wild Alaskan seafood, Trident also offers a wide
variety of species from around the globe.
It's our Responsibility
For us, sustainability isn't just a badge or a stamp to make our products more desirable. Sustainability is an investment in our future. It's a way to ensure this resource is still around for our kids, and their kids. It's why we invest in and support the local communities where we fish. Sustainable, responsible fishing is one of our core beliefs, and it's also one of the many reasons we love fishing in the beautiful Alaskan waters—they've actually written into their state constitution that all fisheries must follow the strictest of sustainability guidelines.
Our bond with the ocean runs deep. We proudly participate in some of the most
ustainable fisheries in the world.
Fish. It's our Future.
Fish leave a lighter environmental footprint on our planet than pork, poultry, dairy and beef. Fish is better for our bodies, our minds and the environment than any other source of protein out there. Fish is the way to nourish ourselves and keep us healthy without neglecting the earth in the process. It's what 50 years of fishing experience has taught us.
And by partnering with organizations who share our vision—like The Seafood Nutrition Partnership, The Genuine Alaska Pollock Producers, The Alaska Seafood Marketing Institute, and The National Fisheries Institute—we can ensure a responsible stewardship of Alaskan seafood for generations to come.
Compared to land-based proteins like cattle and poultry, wild-caught Alaska Pollock leaves a
much lower carbon footprint on our planet.
Starting back in 1973, we were the first company to catch, process and freeze king crab onboard the same ship. The Billikin was the first vessel to accomplish this in Alaskan waters and set a new precedent for the entire crabbing and fishing industry from that point forward. We've been letting our innovative products speak for themselves ever since.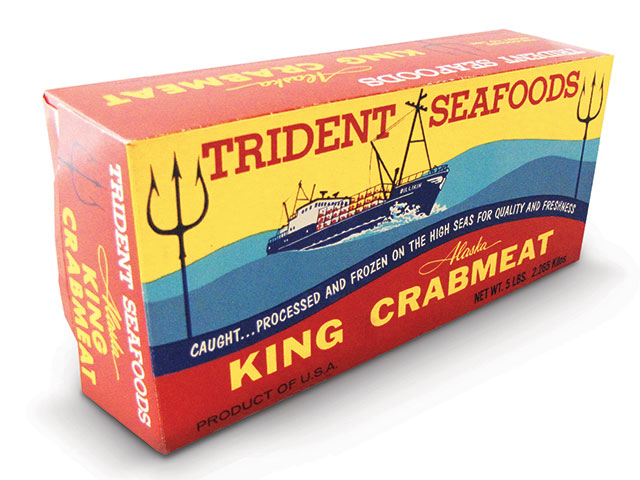 It all started in 1973 aboard the Billikin.
This spirit of pioneering innovation lives on today as we fulfill our mission to make it easy to love what's good for you. Our talented team of chefs and food professionals work tirelessly to create craveable and simple-to-prepare seafood—like Alaskan Amber® Beer-Battered Cod, savory Salmon Burgers, Ultimate Fish-Sticks, Smoked Sockeye Salmon, and so much more.
Our team of culinary professionals continues to innovate and inspire.
Moving In The Right Direction
We are a business built on the ocean, and we'll always champion seafood. Trident is relentlessly focused on bringing you and your family the healthiest, freshest, best-tasting products imaginable. We'll keep working tirelessly to bring you the best Alaska has to offer, while steadfastly ensuring our oceans remain rich and bountiful for another 50 years, and hopefully 50 more after that, too.
All you have to do is choose Trident. Because when you pick up one of our products in your local grocery store, you're choosing to add delicious and convenient seafood to your family's diet…one mouth-watering entrée at a time. Trident makes it easy to love what's good for you.